If you've visited our Gawler East clinic, then you'll have met our amazing receptionists Mel and Nikki.
When recruiting for staff for our brand-new small animal clinic, it was really important to us that our front desk team were welcoming, friendly, compassionate, and knowledgeable. And we really hit the jackpot with Mel and Nikki.
Read on to find out a bit more about our reception superstars.
Meet Mel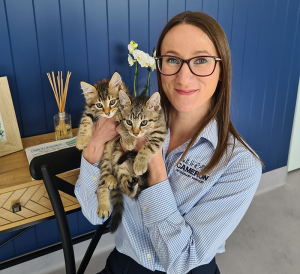 Mel's love for animals started with her 14th birthday present – a horse called JD – which then led to a high school job working as a stable hand for a racing stable. After high school she began a "temporary job" as a dental assistant that was meant to be a six-month maternity leave contract and ended up being a nine-year career.
Mel's caring nature makes her a perfect fit as one of our receptionists at Cameron Veterinary Services. She loves to assist and support people with the health of their pet and makes sure your pets feel at ease when they come into the clinic with lots of cuddles and treats.
Her soft spot for animals continues at home, with her pets including a German Shepherd, two kittens and two horses.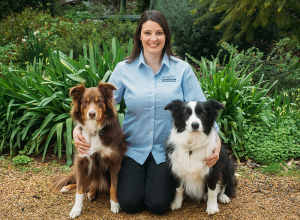 Meet Nikki
Growing up in the Tea Tree Gully area, Nikki's first job at a Big W photo lab led her to photography roles in the Perisher snowfields and Whistler in Canada. It is in Canada where she met her husband before moving home to Adelaide.
While in Canada, Nikki fostered animals for the local shelter, driving a career change to working with animals. Once back home, she started managing a small, independent pet store, where she has worked for the past eight years.
She is also kept busy at home, with three young daughters, plus a Border Collie called Loki, a Kelpie x Border Collie called Zeppelin, 2 Eclectus Parrots called Eddie and Sharni and a large tropical fish tank!
Nikki loves meeting new people and their pets and is excited to be part of the foundation staff for our small animal clinic.
Come for a visit!
If you haven't had a chance to come and visit our brand-new small animal vet clinic in Gawler East, we'd love to meet you.
You can even bring your pet along for the visit to make sure they give it that waggy tail or lick of approval!
We offer a full range of veterinary services for your cats and dogs, including annual health check-ups and vaccinations to dentistry, desexing and surgery.
You can find us at Springwood Place Shopping Centre, 4 Mullamar Way, Gawler East.