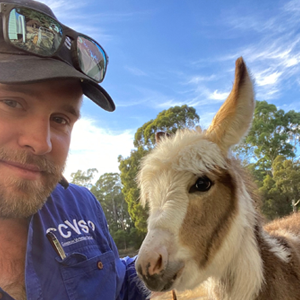 Dr. Lachie Cameron
Veterinarian / Practice Owner DVM B Sc. (Vet Bioscience)
Dr Lachie studied at the University of Adelaide, Roseworthy Campus and completed his Doctor of Veterinary Medicine in 2016 before going to work in the sunshine state of Qld. It was here that Dr Lachie gained a wealth of experience in a wide variety of veterinary skills, particularly in equine medicine and thoroughbred racing work. Dr Lachie then returned home to South Australia to work in the beautiful Adelaide Hills region, before decided to branch out on his own and focus on his passions (being purely large animal work, with a strong interest in equine dentistry).
Dr Lachie's passions in veterinary medicine lie in equine dentistry, equine and bovine reproduction and equine endurance medicine. However, he has the skills to see almost all production animal and equine based problems that you may have. Whilst aiming to provide a high quality, personalised veterinary care to your beloved pet, performance athlete or production based system. In his spare time Dr Lachie enjoys riding one of his off the track thoroughbreds, and pretending like he knows what he is doing. Or spending time with one of his three dogs, or beautiful fiancee.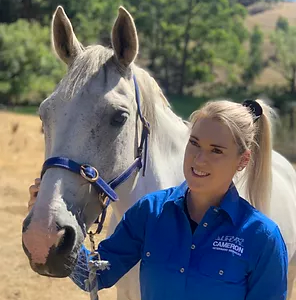 Dr. Brittany Hallett
Associate Veterinarian DVM B Sc. (Vet Bioscience)
Dr Brittany completed her veterinary studies at the University of Adelaide finishing her Doctor of Veterinary Medicine in 2020. Following this she moved to the central highlands of Victoria working in a truely mixed practice treating all species from dogs and cats to horses, cattle and small ruminants. Here she gained a special interest in equine dentistry and a broad range of skills across all species.
Early this year she has returned home to South Australia to focus on her passion of working with large animals particularly equine work. Dr Brittany's passions lie in equine dentistry, equine performance and small ruminant medicine. Dr Brittany aims to provide the highest quality of care with attention to detail to help you achieve your performance goals or achieve optimum health for your beloved companion. In her spare time you will find Dr Brittany riding her dressage horses or hiking with her German shepherd Freddie.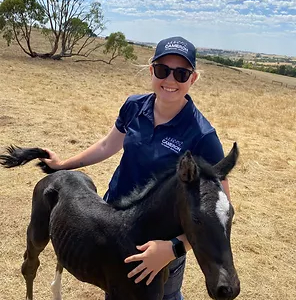 Lucy Brock
Nurse

Lucy joined us in early 2021 from rural South Australia. Growing up in the country Lucy developed a strong interest in working with large animals particularly horses and cattle. Since joining us Lucy has thoroughly enjoyed learning about all aspects of veterinary medicine and is continuing to learn more and more each day. In her spare time Lucy enjoys spending time with her new puppy as well as camping and spending time up the river.