If your pet is over the age of 3, it's more likely than not that they already have some degree of dental disease. But that doesn't mean you can't do anything to help.
The best way to get on top of dental disease before it progresses is through regular dental health checks for your cat or dog.
What is dental disease?
Dental disease is caused by the build-up of plaque and tartar, which over time, can damage your pet's teeth, gums and other supporting structures of the teeth. The level of disease can range from minor inflammation of the gums (known as gingivitis) and plaque on the teeth right through to the loss of teeth and impact on the heart, kidneys and liver. Dental disease can lead to serious illness which can have a significant impact on your pet's life and even become life-threatening.
When should my cat or dog have a dental health check
Pets should get their teeth checked at least once a year, ideally as part of their annual health check-up. However, there are also signs to look out for that indicate that your cat or dog may need a dental check sooner than their regular schedule. This includes:
Bad breath
Drooling
Bleeding or inflamed gums
Difficulty eating
Pawing at the mouth
What does a dental health check include?
A dental health check allows your vet or vet nurse to undertake a comprehensive examination of your pet's overall oral health.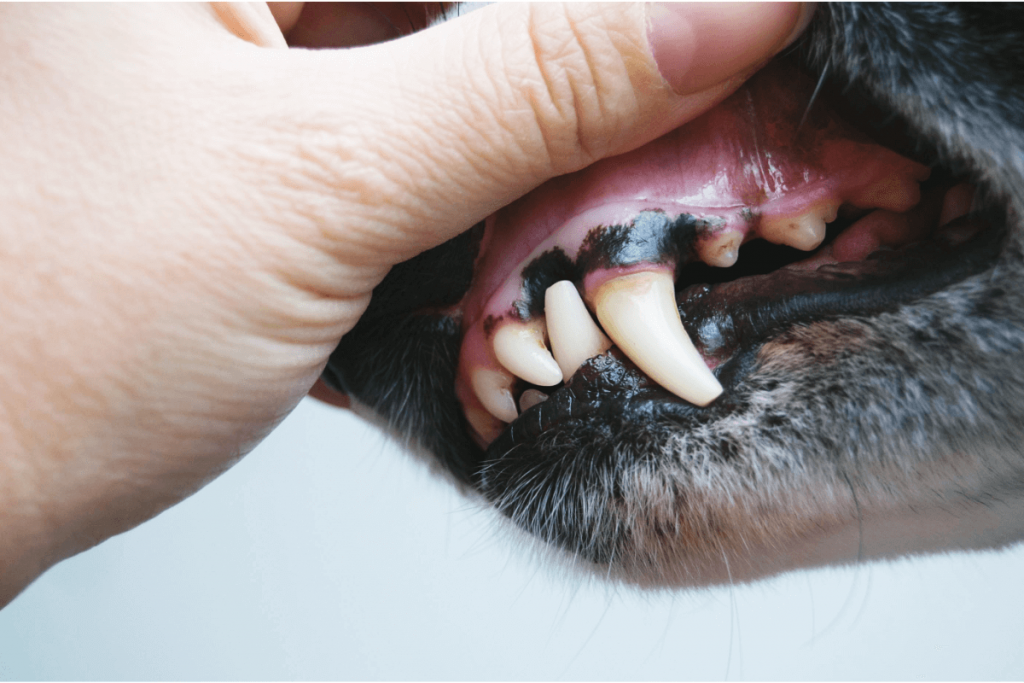 At Cameron Veterinary Services' small animal clinic, there are four key steps involved in our dental health checks:
Discussion about behavioural changes – before we look at your pet's teeth, we will ask you about any changes to their behaviour, such as if they are having trouble eating, are drooling more often, or if their breath has become smelly.
Examination of overall oral health – we start off our examination by looking inside your pet's mouth, taking our time to thoroughly check for any signs of plaque, tartar build-up or any other dental issues.
Gum evaluation – the next step is to closely examine your pet's gums. Here we are looking for signs of inflammation, bleeding or any other abnormalities.
Assessment of teeth – lastly, we will check each tooth for signs of decay, along with any loose or cracked teeth.
Once we complete the check-up, we will advise if your cat or dog's teeth require professional cleaning or any further treatment. We will also discuss some practical tips on how you can look after your pet's teeth at home.
Teeth cleaning & extractions
During some stage in your pet's life – particularly as they age – it is likely that they will require a dental procedure performed by your vet. This may be a professional scale and polish, tooth extraction or some other form of oral surgery.
Teeth cleaning is the most common dental procedure performed by our vets and is performed under a general anaesthetic. Once anaesthetised, we can give their teeth a thorough scale and polish (just like you would at the dentist), while also thoroughly checking their teeth and gums for any signs of disease. We may also take X-rays while your pet is sedated to check for any issues beyond the gum line that cannot be seen by a visual examination.
If your pet's tooth is broken, infected or rotten, then tooth extraction is often required. This is a last resort and will only be performed if the tooth cannot be salvaged. We can perform extractions in our clinic as day surgery, with your pet sent home with pain relief, and onto a soft diet for the next two weeks.
Is it time for a dental health check?
Did you know that our Gawler East small animal clinic offers free dog and cat dental examinations with our vet nurse? If it's been a while since your pet's last dental check-up, then this is a great way to get a complete assessment of their oral health.
You can book online for this free dental health check, or by calling us on 08 8318 1801.