Since starting Cameron Veterinary Services 2 ½ years ago, we've become well-known for providing personalised veterinary care to large animals across Gawler and beyond.
And with the opening of our small animal clinic in the Springwood Place shopping precinct in East Gawler, we'll be extending this high-quality care to the cats and dogs in the local area.
Here's a bit of an insight into how the Cameron Veterinary Services small animal clinic is a bit different to other vet clinics you may have visited before.
Longer consults
All our standard consults are 30 minutes long – twice as long as many other vet clinic appointments.
This means we can take the time to ensure your dog or cat is comfortable and as relaxed as can be, as a vet clinic can sometimes feel like a scary environment for them. Having this time to allow your pet feel at ease makes the whole experience less stressful for your pet, and for you. And it makes it easier for us to do our job!
Longer consultations also allow our vets to really take the time to thoroughly check over your pet. Regardless of if your visit is for an annual health check-up or related to an illness or injury, being able to thoroughly assess your dog or cat ensures they are getting the best veterinary care possible.
More time also provides you with the opportunity to discuss any concerns you may have, from diet recommendations to any concerning behaviour your pet may be displaying. We never want you to feel rushed when you visit our clinic.
Personalised approach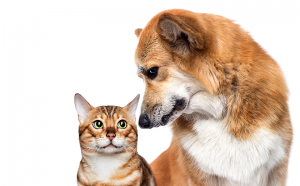 Being a smaller, family-owned vet clinic, we have a strong focus on personalised service. We want to get to know your pet – and you, as their owner – as this will allow us to provide the best quality, individualised care.
And to further develop the strong bond between vet, pet and owner, we aim to make your appointments with the same vet every time you come to our clinic. This helps us to get to know your dog or cat even better, and the familiarity will also put your pet more at ease for future visits with us.
Purpose-built clinic
Building our veterinary practice from the ground up (literally!) has allowed us to create a clinic that is designed exactly the way we want it to be. The clinic has a well-planned layout, is fully equipped with the latest equipment and has plenty of storage in all the places where we need it. This will mean everything will work like a well-oiled machine from day one, and we can spend more time with your pets, rather than having to move from room to room to find things.
Full range of veterinary services
Our vet clinic offers a full range of healthcare services for your dog or cat. From annual health check-ups and vaccinations to dentistry, desexing and surgery, we can provide a full range of veterinary care for your pets. We can also perform a range of in-house diagnostic services including in-house blood and urine testing.
We're almost ready to open!
The Cameron Veterinary Services small animal clinic will open in Springwood Place (located in East Gawler) on Wednesday 3 August. We can't wait see your dog or cat soon!