Preventing disease through targeted worming is an essential part of keeping your horse healthy. But de-worming is not a one-size-fits-all process.
In the past, most horses were wormed at set intervals. However, this has led to increasing levels of resistance to worming medication.
That's why regular faecal egg count testing is vitally important to ensure your horse is on a worming protocol that is specially tailored for them. And to make this testing easier, the Cameron Veterinary Services equine team have created a drop-off faecal egg count service for horse owners in the Adelaide Hills region and Gawler area.
Why is faecal egg count testing for your horse important?
Understanding your horse's worm burden is a vital part of keeping them healthy. If left untreated, a worm infestation can cause a range of health issues, including stomach and gastrointestinal problems, liver damage and colic.
A faecal egg count allows us to identify the amount and type of parasite eggs that are potentially inside your animal's digestive tract. This is performed by examining a sample of your horse's poo (mixed with a special solution) under a microscope and measuring the number of eggs per gram.
By understanding your horse's parasite load, we can then provide recommendations for a de-worming schedule, as well as forming a baseline for future faecal egg count testing.
How often should you test?
We recommend that 3-4 faecal egg counts should be performed per horse annually, spread pretty evenly across the year. This will allow us to understand the worm burden within your horses.
It's also important that you re-test two weeks after de-worming. This repeat testing – also known as a faecal egg count reduction test – allows us to work out whether the worming medication has been effective, or if your horse has developed resistance to the de-wormer.
Our faecal egg count service
To make faecal egg count testing easier for horse owners in our local area, we have created an easy drop-off service. Simply collect a small sample of your horse's fresh poo in a bag and drop it off to us at our Gawler East vet clinic or at our Mount Pleasant equine practice. We will assess your horse's worm burden, and provide recommendations for any required de-worming products.
Collecting a sample
The two most important factors when it comes to collecting a sample for testing are freshness, and if you have more than one horse, identifying which horse it belongs to!
Label a plastic bag with your horse's name and your own contact details.
Collect a small amount of poo that is fresh (i.e., still warm) using a glove, place it into the plastic bag and seal it. You don't need much – a little bigger than a golf ball is fine.
Try and grab a few small amounts from different sections of the manure, as parasite eggs aren't always evenly distributed. Just make sure it is the poo of one animal – you don't want to combine samples.
If you can't drop it off the same day, keep the sample refrigerated until you can.
Cameron Veterinary Services faecal egg count loyalty card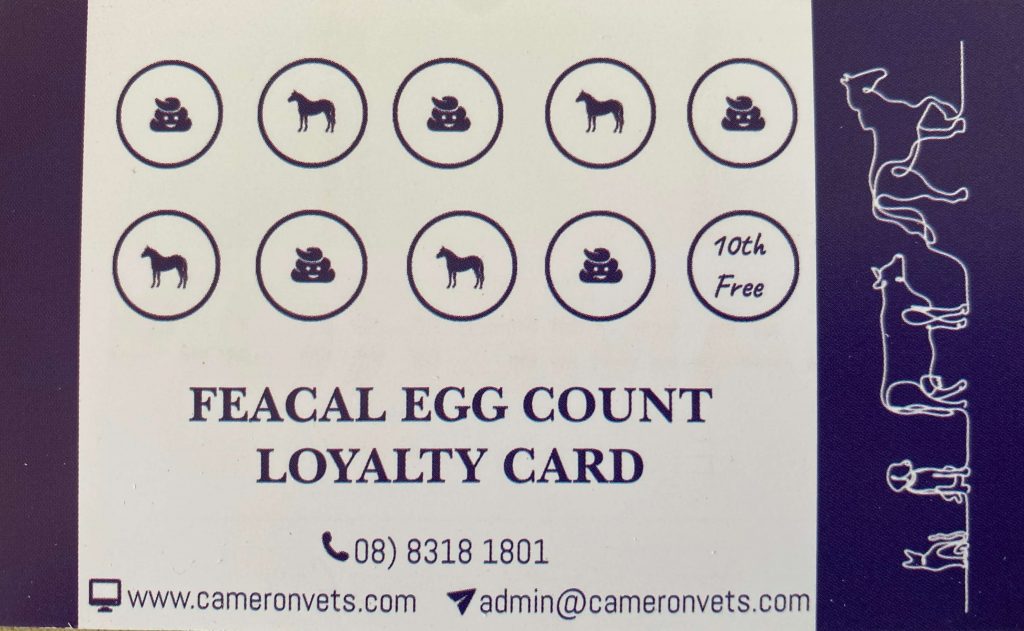 The cost of the faecal egg count is $25 per sample. With many of our equine clients having multiple horses, we have created a loyalty card, whereby every 10th test is free.
Contact us to find out more
In addition to this service for horses, we also offer faecal egg counts for sheep, alpacas and goats.
You can drop off your sample for testing at our Gawler East clinic at any time during opening hours, or if our Mount Pleasant equine clinic is more convenient, simply get in touch via phone or social media to arrange a time for drop-off. If you have any questions regarding this service, please give our team a call on 08 8318 1801.